By Marzena Lapka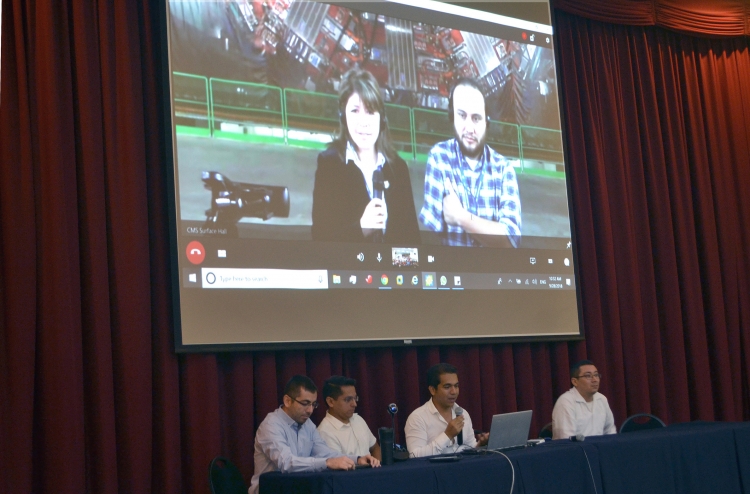 CMS members, Cecilia Uribe Estrada and Jose Andres Monroy, introducing themselves to the audience at the University of Sonora, Hermosillo in Mexico.
There is no doubt that on the last Friday night of September many researchers are not only awake but also very busy explaining what they do to the public – it's European Researchers Night.
This year, it was for the fourth consecutive year that CMS researchers equipped themselves with the safety gear, headsets and a mobile camera to "virtually" show the CMS experimental facilities to audiences around the globe, exploring hidden gems of the CMS Control Room and descending 100 meters underground.
CMS Virtual Visits is an educational programme that enables audience from across the globe to nurture their curiosity about science by virtually seeing the real life experimental facilities and talk to researchers about their work. "It 's very surprising how tricky it is to find the proper words to describe our job to the general audience" said Jose Andres Monroy, one of the volunteers that night.
This year Researchers Night's Virtual Visits reached around 1000 students, parents, teachers and members of the general public that connected from Kaunas University of Technology, Lithuania, Wigner Research Centre for Physics, Hungary, University of Sonora, Hermosillo in Mexico, Planetário Calouste Gulbenkian in Lisbon and six different venues in Italy: INFN Pisa, INFN Bari, Liceo Scientifico Ruffini in Viterbo, Liceo Scientifico Racchetti da Vinci in Crema, Liceo Nuzzi in Andria, Liceo Scientifico di Carignano Norberto Bobbio in Torino area.
The key ingredients to each Virtual Visit are a combination of a walking tour around the experimental facility and a live conversation with researchers, all in the native language of the visitors. This is why the connections were scheduled on different times, to allow groups to comfortably explore our site and get all answers to their questions.
The feedback received was extremely positive and a huge applause thanked the speakers all of whom actively engaged the audience throughout the visits. Our technical operator, Zoltan Szillasi, who is connected to every visit to monitor the quality, said: "Even if I don't understand Spanish I feel like at a football match and I am about to shout "Go! Go! Go!". Actually, one guide was checking on the Men's World Volleyball Championship's scores while preparing for a Virtual Visit and said "Science is very much like sport – when you watch a match for the first time, you become a supporter! And this is why I'm here today – to tell the world about the exciting science that takes place here."
There is one common objective that all volunteers, who kindly offered help that night, share – to spark curiosity about particle physics and inspire younger generations to pursue careers in science, technology, engineering and mathematics. "I'm connecting with my own school! My father is there, to help with the technical side of the connection. We're constantly on WhatsApp!" said CMS researcher, Livia Soffi, who was delighted to show a real laboratory site and the human-side of science to young people from her hometown.
Egle Gaule, Head of Department of Research and Innovations in Kaunas University of Technology in Lithuania was astonished by this innovative way of visiting real lab facilities. She also noticed the importance of the fact that "the data obtained from the CMS Experiment is accessible to the public, which allows anyone who is interested in it to test their "forces" in calculating the results of collision of accelerated particles and possibly discover theirs Higgs boson".
Alfredo M. Castaneda Hernandez, physics professor from the University of Sonora, Mexico said: "I hope in the future we will have the opportunity to continue offering CMS Virtual Visits, not only here, in University of Sonora, Hermosillo but all around Mexico and other countries, to inspire young students."
The CMS Virtual Visits continue through the year, and soon, when the LHC will stop for about two years for the maintenance works (LS2) the teams will be able to take audiences for a breathtaking virtual trip to actually see the CMS detector.